Southern California Pet Stories
last updated 10/10/05
---
Moshi
Hi, my name is Moshi. I am a puppy dog. Puppy dogs sometimes do dumb things. Being a puppy dog, I did a dumb thing today. Oh, but don't worry, I'm ok. You see, mom and dad work all day. They leave me all by my self and I get bored. Yeah, they leave me treats hidden in the Kong and give me yummy bones to chew on (so that I don't chew the furniture). I do like to jump on the couch and take long naps while they are gone, but I don't think they know. Moms and dads don't realize we do these things and that is the way I like to keep it - so don't tell them I sleep on the couch. Anyway, back to my adventure. I was bored and there is this dog in back of us who I like to bark at through the fence. It is fun to bark. I can act all scary and fierce and then people think I am a big scary dog, not a dumb puppy. Ok, so they usually barricade the upstairs with my comfy crate they tuck me into every night. But today, I decided, hey, I can get around this. I am a big, strong puppy, so guess what - I moved the crate out of the way and got upstairs! Woohoo, party time. Wow, they left the window open. They say they do that so that I can have some fresh air during the day. Oh look the dog I like to bark at is out back, hmm, I just wonder what would happen, just a little farther, yes - f-r-e-e-d-o-m! Oh my god - I'm on the roof! I don't think mom and dad will like this. Oops, this is a bit higher than I though it looked from inside the house. Yikes - what am I going to do? help me!
Well, it is lucky the way things work out in the dogs world. Dad's driving instructor left his mirror in our car last week and dad called him last Friday to come pick it up from our mail box. Well, he decided to come today. Our neighbor, who has lived in the neighbor hood for 40 years asked the man if he could call dad and let him know I was on the roof - duh, like I wasn't supposed to be there - it is just another part of the house right? So he calls dad and says, "dude your puppy dog is on the roof." I should have barked and then he would have thought I was a big tough dog. They let dogs in Bolivia on roofs. Mom and dad have a picture to prove it. Anyway, Mr. driving instructor calls dad and dad comes home. I wasn't scared, it wasn't like my tail was between my legs or anything. Anyway, dad called me inside and you should have seen how I leapt from the garage roof through the window - I was flying like superman. It was so cool! Ok, maybe I just walked back into the house as dad grabbed onto my collar.
Unfortunately, I never got a chance to play with the dog on the other side of the fence. But dad did get the phone numbers of two neighbors - something we did not have before. I am promoting good neighborliness. Oh, and he got to talk to Multnomah county animal control and the humane society. Not bad for a days work. So, let's see what adventure tomorrow brings....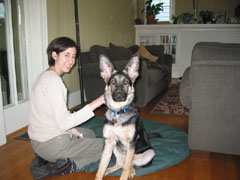 ---
Have An Interesting or Fun Pet Story?
Click on the following link to submit your story or email directly to news@mypetconnection.com.

http://www.mypetconnection.com/news
---